IAI Annual Conference
Under the Memorandum of Association the IAI has committed to hold 'at least one conference annually on a matter or matters related to archaeology'. Currently, we organise one meetings a year in the Spring to coincide with the Annual General Meeting. The conferences are held on a rotational basis between the four major cities that have University training in archaeology; Dublin, Cork, Galway and Belfast. These meetings are open-to-all, but with Members offered a discounted admission price. The sponsorship we receive for the IAI conferences is essential to their success and we wish to extent our gratitude to all those who have offered support over the years.
To cater for the large cross-section of members the conferences are currently run over two days, a Friday and a Saturday. The format consists of up to four sessions per day, with each session made up of 3–4 speakers with presentations of 20–25 minutes long. We can also cater for shorter presentations, and frequently hold a session of 10 minute talks on current post-graduate research. Where possible we also try to incorporate a field-trip element, for example, a walking tour of medieval Cork City. The social aspect of these meetings is particularly important and the Friday Night Table Quiz has been a resounding success, bringing people together through tension and tie-breakers!
The theme of each conference is set by the IAI Board of Directors; however all suggestions from our members are also more than welcome for consideration. We make every effort to bring together a diversity of speakers, offering something to suit everyone's interests, and we aim to include themes that are topical, showcasing the high standard of excavation and research that is underway across Ireland.
IAI Conference 2017
The IAI 2017 Conference and Annual General Meeting will take place on Friday 31st March and Saturday 1st April 2017 in the Louis Fitzgerald Hotel, Newland's Cross, Dublin.
The conference entitled 'Strata' consists of six sessions spread over two days. Attendees can enjoy nineteen presentations. The Conference programme is available to download – IAI Programme 2017
The keynote address will be delivered by Dr. Meriel McClatchie (Assistant Professor, School of Archaeology, UCD). Dr.McClatchie will present on Food 'facts' : new findings and emerging challenges in the investigation of ancient foodways
Attendance at the IAI Conference is open to IAI members and the public. If you haven't already registered, we would encourage you to secure your registration through Eventbrite – Click here to register
We are pleased to announce that we are running the IAI 2017 Photographic Competition. The competition is only open to IAI members (all categories) and the photographs must be submitted to iaiarchaeology@gmail.com. The closing date for receipt of photographs is midnight on 29.3.17. Full details on the poster attached –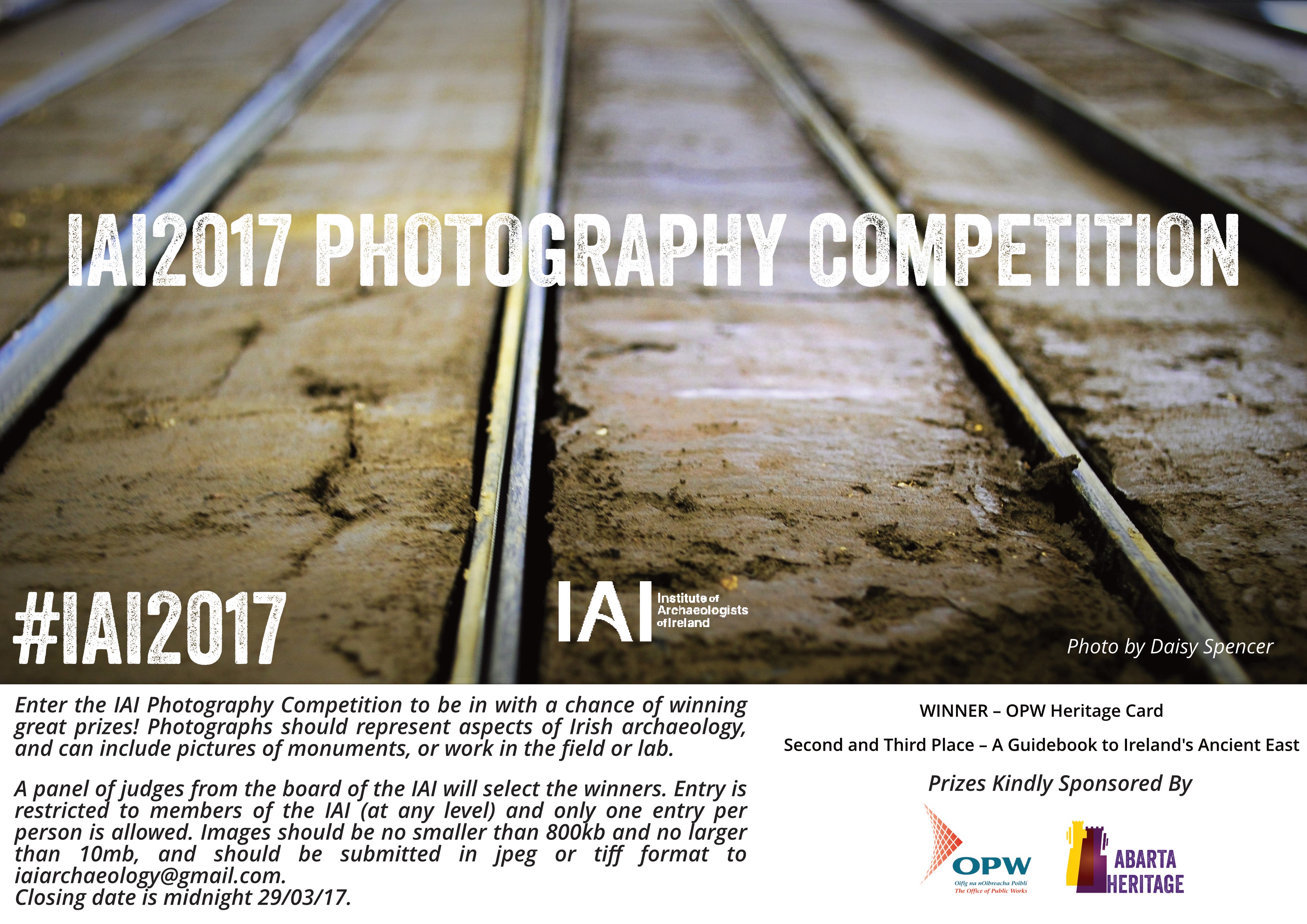 We look forward to seeing you,
Lynda McCormack
IAI Conference Organiser
Venue location details
Louis Fitzgerald Hotel,
Newland's Cross, Exit 1A, Naas Road,
Dublin 22
(GPS Coordinates: N+53 18' 56.06" W -6 23' 2.51")
Conference fee
Members (€30/ £25)
Non-members (€40/ £30)
Students/Unwaged (€5/ £5)
IAI Conference 2017 – Call for papers
The annual IAI conference 2017 will take place on Friday the 31st of March and Saturday the 1st of April in the Louis Fitzgerald hotel in Dublin. This year's conference will feature four themed sessions on prehistory, environmental archaeology, community archaeology and historic archaeology.
The call for papers is now open and will close on Monday the 30th of January.
Those who are interested in presenting at this conference are invited to submit an abstract of no more than 250 words in length to iaiarchaeology@gmail.com
Presentations should be no more than 20 minutes in length.
We look forward to hearing from you.
[Posted 17 January 2017]
IAI Spring Conference and AGM 2017 – DATE FOR YOUR DIARY
The IAI Spring Conference and AGM 2017 will take place in the Louis Fitzgerald Hotel, Dublin on Friday 31st March/ Saturday 1st April 2017.
The conference will consist of several themed session, including but not limited to prehistoric, environmental, community and historic.
---
IAI Spring Conference and AGM 2016
Event Description
The Institute of Archaeologists of Ireland are pleased to announce that the 2016 IAI Conference will be held in Galway City on April 29th and 30th. This year's theme 'A Matter of Time' seeks to explore materiality and chronology in Irish Archaeology from multiple viewpoints. Prehistoric archaeology in Ireland has been revolutionised in recent years due to a much more detailed understanding of chronology than was previously available. However, has our understanding of materials and lifeways kept pace with our refined ability to put the archaeological record in order? Has the same progress been made for later periods, especially (for example) the early modern period, when radiocarbon ceases to become a useful dating control? How can archaeology add to and challenge historical narratives of "what happened" in the past? What are the changing relationships between society and the natural environment?
Our speakers will confront these problems as well as examining changing materials, technology, and architecture and the 'new' information that can be gleaned from the archaeological record as a result of their study.
 The Keynote Address will be delivered by Prof. Elizabeth FitzPatrick of NUIG. Prof. FitzPatrick will present 'Suspending Time: Wilderness and Boundary Places in Medieval Ireland'.
Our conference is a forum for discussion and a networking opportunity. We are proud to be offering an award for the best paper in the post-graduate session for student researchers. In addition, we're sure many of our conference delegates are looking forward to this years, and the ever-popular, Table Quiz on Friday night.
Registration: Registration will be on the day upon arrival or alternatively book your tickets through Eventbrite 
The conference fee is –
Members                 €30 / £25 stg
Non-members          €40 / £30 stg
Students/Unwaged  €5 / £5 stg
---
Previous Conferences
Download a summary of the previous IAI conferences: List of recent of IAI conferences
Download the IAI Conference Proceedings 2014 (Spring): IAI Conference Proceedings 2014
Download the IAI Conference Proceedings 2013 (Spring): Proceedings of the IAI Spring 2013 Conference
Download the IAI Conference Proceedings 2012 (Autumn): Proceedings of the IAI Autumn 2012 Conference (2)