Latest IAI News
19/05/2022
Currently the IAI Board is seeking to appoint an IAI GDPR Compliance Officer. This may be an IAI member of any grade with prior experience of GDPR compliance within a company or organisation. We are also seeking full members to consider joining the board in the future and all expressions of interest should be sent to chair[@]iai.ie
The IAI Board has compiled a list of relevant links to government websites and agencies that will enable members keep informed and aware of supports that are available to them. This is not an exhaustive list and members who wish to provide additional links can do so by emailing – iaiarchaeology[@]iai.ie
Department of Health:
(Includes social welfare advice for employers, employees and the self-employed)
Health Service Executive (HSE):
Health and Safety Authority (HSA):
World Health Organisation (WHO):
Centre for Disease Control:
Revenue – Irish Tax and Customs:
Northern Ireland Government Services:
Department of Culture Heritage and the Gaeltacht (DCHG):
Department for Communities
National Museum of Ireland:
Department of Housing, Planning and Local Government:
https://www.housing.gov.ie/corporate/covid-19-coronavirus/covid-19-coronavirus-crisis
The IAI would like to thank the JIA Editorial Board for attending its first meeting of 2020 (13th February). Thanks also to TII for hosting today's gathering.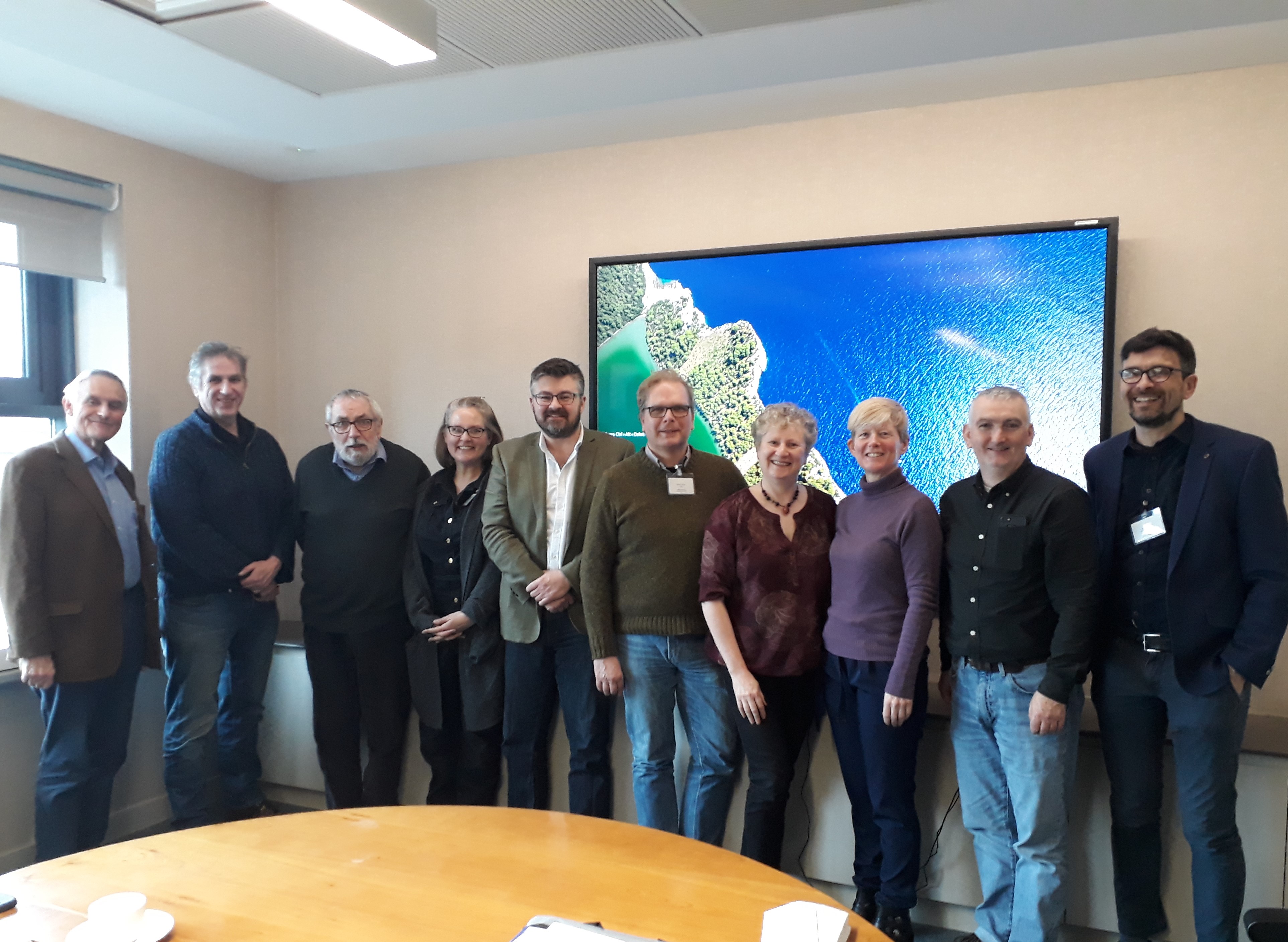 Pictured from left to right are: Conleth Manning, Independent Researcher,  Cormac McSparron, Queen's University Belfast (QUB), Nick Maxwell, Wordwell Ltd (publisher), Dr Katharina Becker, University College Cork, Dr Michael Potterton, NUI Maynooth, Dr Dirk Brandherm, QUB (editor), Jean Farrelly, National Monuments Service, Dr Fiona Beglane, Institute of Technology, Sligo, Conor McDermott, UCD School of Archaeology, and Matthew Seaver, National Museum of Ireland.
Recent Industrial Action in Private Sector Archaeology: An Open Invitation to attend Mediation (6/7/18)
Given the recent industrial relations, which have thrown the Irish archaeological sector into the spotlight, the Board of the IAI would like to issue the following statement:
The aim of the IAI, through the representation of our members, is to advance and strengthen the profession of archaeology in Ireland and membership is open to professional archaeologists working in both Ireland and Northern Ireland. The IAI represents members working in the public sector, the private (or 'commercial') sector, as well as museums and academia. We support the rights of Irish archaeologists, both as employees and employers, to a stable and sustainable employment environment.
As construction projects gain pace once again, there is an accelerating demand for suitably trained, qualified and experienced archaeologists to undertake necessary mitigatory works. In order to keep these individuals, and their knowledge, in the sector, appropriate remuneration and working conditions are a necessity. This has long been a concern to our members and was formally assessed by a Working Group for the Review of Pay Rates (WGRPR), commissioned by the IAI in March 2014. For all archaeologists, recognition (financial and otherwise) of their qualifications and their professional work is of key importance.
In order to achieve this, it is important for our small profession to unite to address these issues and for all parties to show willingness to engage in meaningful negotiations about employment conditions. The IAI is not a union and cannot enforce any sectoral pay rates for our members. Given our diverse professional membership and our cross-border agenda, the IAI has long maintained a neutrality on the issue of pay and remuneration, which varies across the public and private sector and between national boundaries.
Archaeologists working in the public and academic sectors have a long tradition of trade union recognition and representation; we believe that the commercial sector should be no different. The Board of the IAI is willing to facilitate discussions and act as a mediator between the interested parties. As ever, if any Member of the IAI has any concerns regarding this area, we would invite them to raise these with the Board.
The Board would like to acknowledge the commercial sector employers and the UNITE trade union who have engaged in the negotiation of these rights to date. We hope that their ongoing dialogue will be fruitful and bring Archaeology to equivalence with other areas of the construction sector. Ultimately, these actions provide for a greater recognition of Archaeology as a true profession.
On behalf of the IAI Board
 Dr James Bonsall, Chairperson, Institute of Archaeologists of Ireland
Cian Hogan, Public Relations Officer, Institute of Archaeologists of Ireland
Respect your Follow Archaeologists
Over the last few weeks the Board of the Institute of Archaeologists of Ireland have noticed that that less-than-respectable comments have been made between parties, principally in the private (commercial) sector, on several social media fora.
The Board would like to remind its Members that by joining the Institute, and remaining as a Member, they made a contract with the Institute and a commitment to professionalism within the sector. This does not just cover their career work, but also their engagement with archaeology in other areas. If any Member(s) would like to bring any issue of maltreatment on such fora to the Board, please contact us at: iaiarchaeology[at]gmail.com
For those not among the Membership of the Institute, professional archaeologists are representatives of and for Irish archaeology; and that as such, any and all of our comments will be taken to reflect the sector.
The Board would like to remind all professional archaeologists working on the island of Ireland that discussion (or even argument), whether in agreement or disagreement, can and should be carried out in a respectful, professional manner.
Statement in solidarity with the people of Ukraine The Chairperson and Board of the Institute of Archaeologists of Ireland (IAI) are appalled and deeply concerned by the ongoing military incursion by Russian forces on the territory of Ukraine, which is an unprovoked act of aggression towards the people of Ukraine. As the representative organisation for professional archaeologists working on the island of Ireland, we understand that the most valuable and irreplaceable resource a country has is its people. Whilst we may be geographically removed from what is going on in eastern Europe, we must do everything we can to help and support the people of Ukraine, they are our colleagues, friends and family, and they are in real and immediate danger. This unprovoked attack by President Putin and the forces of the Russian Federation should not be allowed to stand and we call on our government to take a decisive stance with our European partners to bring this conflict to an end and to support the humanitarian effort to help the Ukrainian people. As a member of the European Association of Archaeologists (EAA), the IAI fully endorses the statement issued by the EAA and applauds their list of helpful resources (https://www.e-a-a.org/EAA/Navigation_News/Ukraine_war_detail.aspx). Furthermore, we wish to echo the voices of our colleagues across Europe in their condemnation of the destruction of Ukraine's rich cultural heritage by the Russian Federation. This is occurring as a means to demoralise and destroy Ukraine's cultural identity; shared cultural heritage has the power to unite us all and its destruction, coupled with the environmental atrocities that are being committed, is an affront to us all.... read more