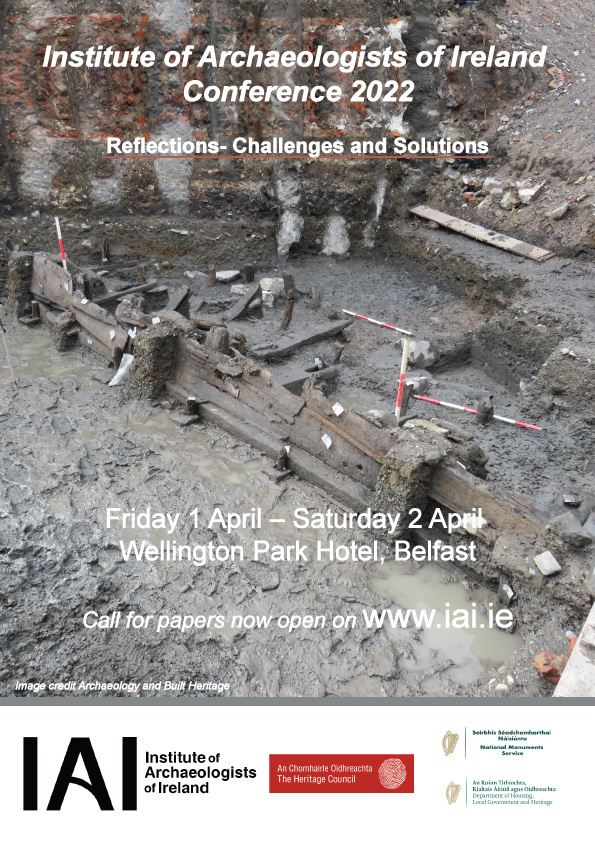 Please register for this years IAI Conference in advance REGISTER Online registration closes 29th March.
Please find the Conference Booklet with schedule of speakers, titles and abstracts below.
IAI Conference Book 2022 Final
The annual IAI conference 2022 and AGM will take place on Friday 1st and Saturday 2nd of April 2022 in the Wellington Park Hotel, Malone Road, Belfast. The theme is Reflections-challenges and solutions
The past number of years have held many challenges for archaeologists as a whole, negotiating working again in a boom economy, the loss of expertise and personnel in the downturn, challenges to archaeological resources, challenges in recruiting suitable staff and negotiating safe working conditions for staff during the COVID-19 pandemic. This conference seeks to discuss the challenges we face and possible solutions that are currently available and being developed. A further topic of discussion is Wetland Archaeology. Recently some spectacular wetland sites have been excavated in Ireland, but these are not without their challenges, both in excavation and post excavation.
For 2022, two themes will be addressed; Theme 1 – Challenges and Solutions and Theme 2 – Wetland archaeology.
Theme 1 Challenges and Solutions
One of the challenges that has always faced commercial archaeologists is how to integrate a research agenda in commercial projects which face multiple pressures. We invite papers on archaeological sites that have been or are currently being excavated to discuss the research agenda for the site. The COVID-19 pandemic has posed many challenges also to the archaeological profession, how are people dealing with working while following guidance procedures? The lack of capacity of both specialists and archaeologists has been flagged over the past few years, with many staff having left during the recession and never returning. How is this being dealt with? A recent survey on mental health in archaeology commissioned by IAI showed a low level of satisfaction amongst many archaeologists. How can peoples mental health be improved as archaeologists? There are also challenges being faced acquisitioning material to the National Museum, what are the best ways to deal with this?
Many projects are now prioritising public outreach and promoting local heritage as part of their excavation strategy, indeed this is an important feature in TII tender requests and we invite papers on this topic. Some new archaeologists are also coming through specialists masters programmes to help fill the gap in specialist capacity.  Recently the government announced 2.2 million euro in funding for the Irish National Strategic Archaeological Research + which will be instrumental in integrating research and commercial archaeology. We invite papers on all aspects of working in Archaeology – the challenges and the solutions we have developed to tackle these, along with potential ideas for future work.
Theme 2 Wetland Archaeology
Wetlands have enormous value as they preserve archaeological, environmental and landscape evidence of the past. The range of specialist work that can be used at these sites include pollen, plant macrofossil, wood and coleopteran analysis. Excavation of wetland sites are challenging however, both financially and physically. Also many issues are still faced when dealing with peatland archaeology, a topic which was recently raised at COP26. This session aims to present research from wetland sites and discuss how they are being interpreted and if necessary preserved.
If you would like to submit a presentation or poster, please contact the conference organiser Dr Lorna O'Donnell (odonnell.lorna@gmail.com) by the 14th of February 2022 with a title and approximately 200 word abstract
Note: The Wellington Park Hotel is under renovation at the moment so does not provide overnight accommodation. The nearby Malone Hotel has availability and will offer a discount if you mention you are attending the IAI conference.